Yesterday afternoon, our CEO, Kamran Rashid was joined by GatenbySanderson's Inclusion & Diversity Manager, Ainslie Wilson-Shearer, to host an online briefing about the Insight Programme for aspiring Non-Executive Directors.
Though we'd only announced the session on Monday we were joined by an eclectic group, including cardiologists, legal and financial professionals and others from healthcare, teaching and entrepreneurial backgrounds. We're really pleased that so many took up our invitation at short notice and this kind of pro-bono inclusion activity is vital to our commitment to removing barriers for underserved communities.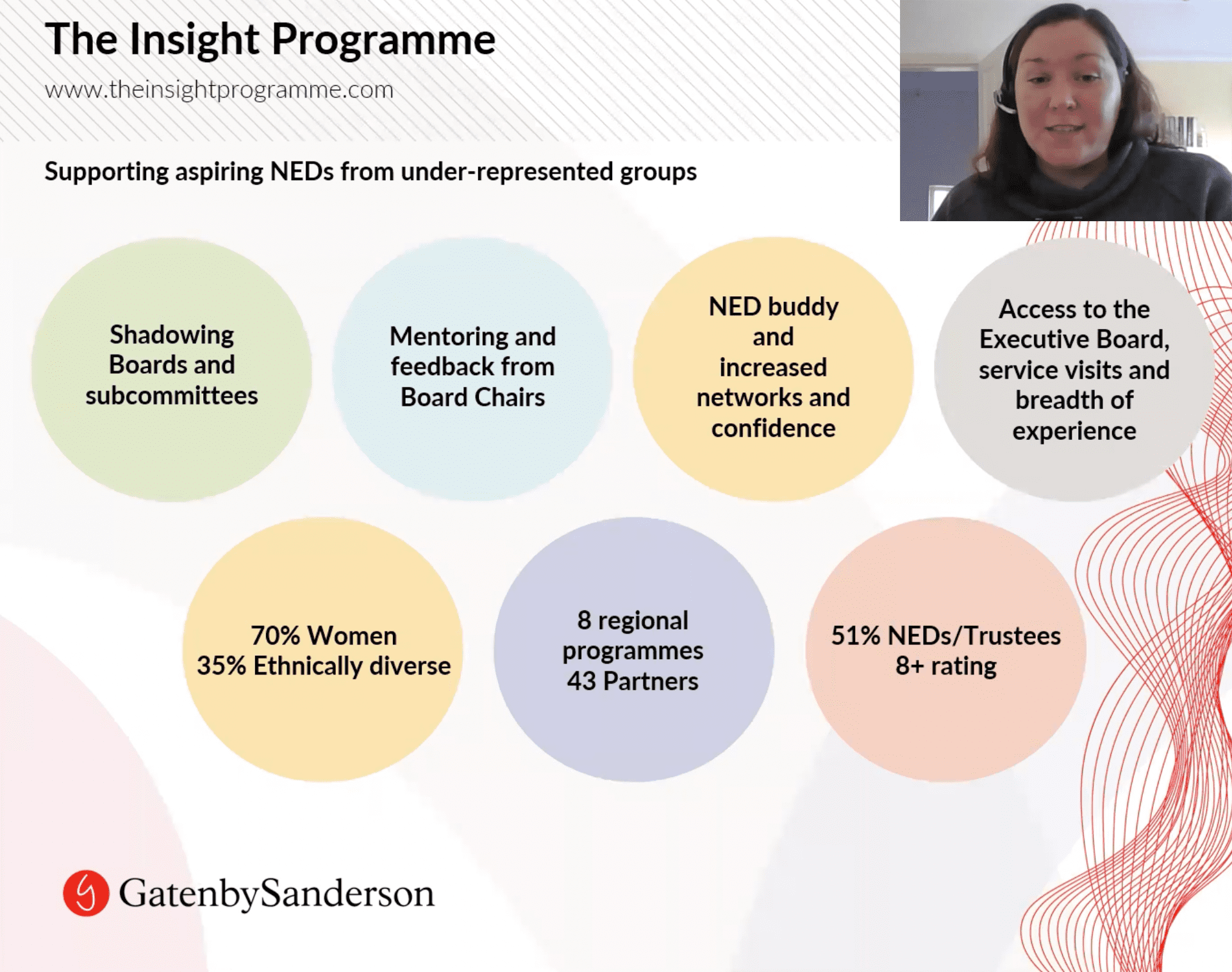 Insight is a wonderful programme at tackling inclusion in organisational leadership and we're pleased to be supporting Ainsley and 
GatenbySanderson
 in engaging the communities around us.
Here's what Ainsley had to say about the session…
It was fantastic to join Impact Hub Bradford last night to share details of the Insight Programme at GatenbySanderson. We are now accepting applications for a cohort in Yorkshire, with plans to start first placements for those who are accepted on the programme in June 2021.

This 12-month development programme is designed to support aspirant Non-Executive Directors from under-represented groups by offering an opportunity to shadow two working NHS Boards. Successful participants will attend Board and subcommittee meetings, receive mentoring and buddy support from existing Chairs and NEDs, and have access to Executive teams and service visits.

The minimum time commitment required in order for participants to fully benefit from the programme is 2-3 days per month. Beyond the exposure to the ways in which Boards work, participants will gain greater understanding of the role of a Non-Executive Director, including how to provide appropriate levels of support and challenge at that level. It is also an opportunity to expand personal networks and influence.

Applications should be made at theinsightprogramme.com by 6th April 2021; for a further conversation about the programme, please contact Becky Downs via email or on +44 113 205 6296.
We're really excited to see who'll apply to the programme and will keenly follow the progress of successful applicants.